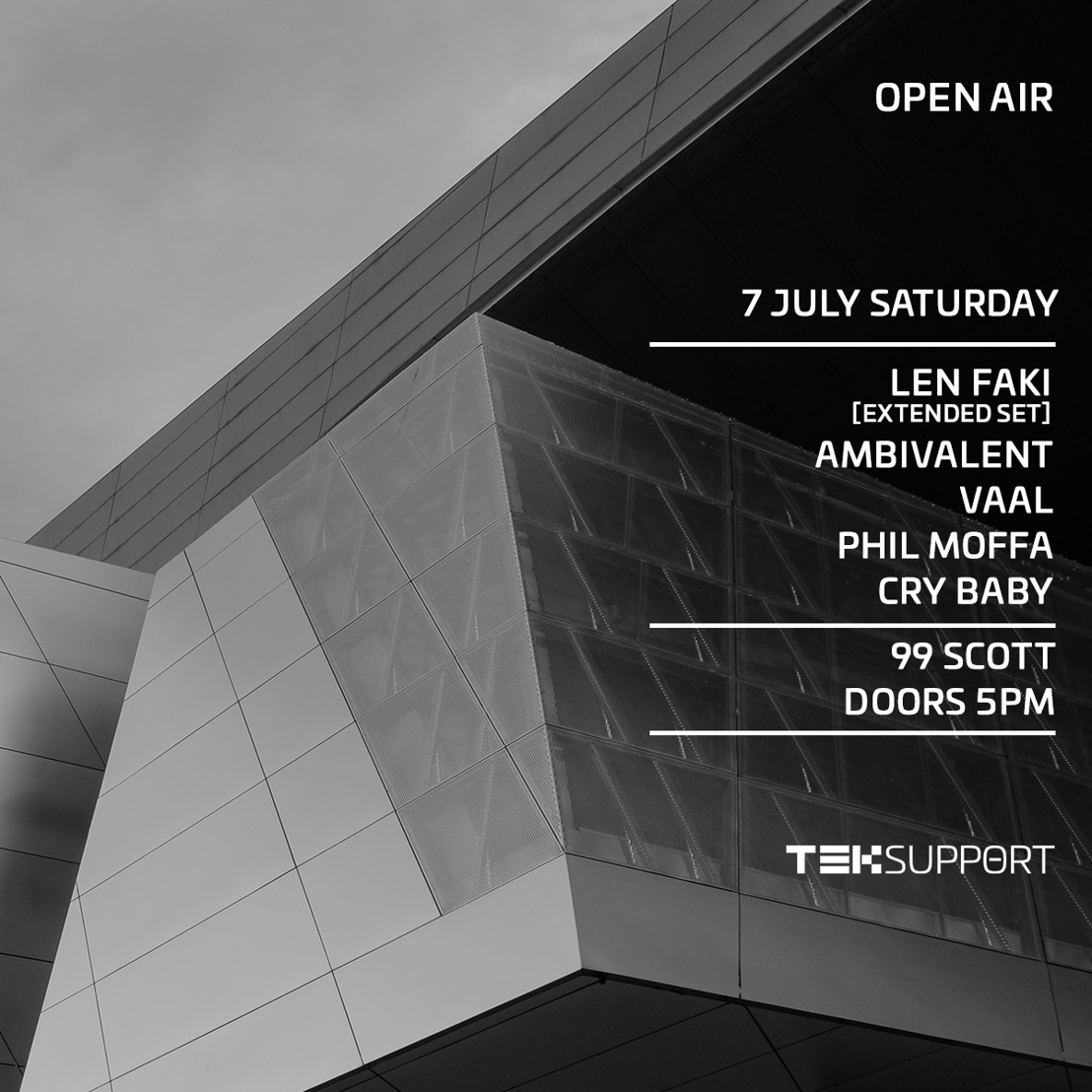 Teksupport Announce July 7 Day Into Night Open Air Event with Len Faki
Wednesday, May 16, 2018 — Support By Ambivalent, VAAL, Phil Moffa and Cry Baby
99 Scott Ave in Brooklyn
Tickets on sale, Thursday at 5PM - http://bit.ly/LenFakiBK
Today the crown-jewel of New York's underground electronic music scene, Teksupport have announced a July 7 day into night event featuring one of Berlin's most prized techno titans, Len Faki.
Len is revered as one of the world's most in-demand techo acts, a testament to over a decade of releasing seminal records and playing some of the world's most sought after events. His supreme selections and ear for what's next quickly evolved into a slew of label upstarts over the years including Figure, Podium, and spc. Len's name has become synonymous with the Berghain experience since its opening in 2004 with his long running residency being one of the club's most consistent attractions and of course giving way to one of the cornerstone releases of his career - the 'Berghain 03' Mix CD.
Len touches back down in NYC for this mid-summer open-air Brooklyn event - offering a day into night journey through the global underground.
Joining Len will be New York by Berlin transplant, Afterlife and Life and Death mainstay VAAL, as well as New York's Phil Moffa and Cry Baby.
Teksupport is NYC's leading underground event producer. Boasting an unwavering dedication to hosting the world's best DJs in raw spaces with top notch production, the outfit has quickly risen to set the standard on producing warehouse events. Since their inception, Teksupport has brought iconic brands such as Time Warp, Circoloco and Solomun +1 to NYC while also hosting an array of artists that includes Jamie Jones, Seth Troxler, The Martinez Brothers, Loco Dice, Black Coffee + many others.
Teksupport Presents Len Faki, Ambivalent, VAAL, Phil Moffa and Cry Baby
July 7 - 5pm Onwards - 99 Scott Ave in Brooklyn
Tickets on sale, Thursday at 5PM - http://bit.ly/LenFakiBK
Lineup:
Len Faki
Ambivalent
VAAL
Phil Moffa
Cry Baby
Connect with Teksupport
https://www.facebook.com/teksupportnyc
https://www.instagram.com/teksupportnyc
https://www.twitter.com/teksupportnyc